2018 National Convention
The 100th Annual American Legion National Convention will be held in Minneapolis, Minnesota from August 24 - 30, 2018 at the Minneapolis Convention Center. Those Legionnaires who are not call-ins but attending should plan to be in Minneapolis no later than Saturday, August 25th as the majority of Legionnaires attending will be assigned to a committee meeting on Sunday, August 26th.
Hyatt Regency
1300 Nicolett Mall
Minneapolis, MN 55403
(612) 370-1234
https://minneapolis.regency.hyatt.com/en/hotel/home.html

Room Rates: $137.00 plus tax (13.15%) = $155.02/night
First night payment ($155.02) due to Department on July 9th.

Hotel check in time: 3:00pm
Hotel check out time: 12:00pm
For more information on the 2018 National Convention, please contact Department Adjutant Dave Salak at 402-464-6338.
Future National Conventions:
- 101th Annual Convention: August 23 - 29, 2019 in Indianapolis, IN
Convention Information: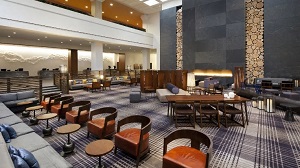 - Adjutant Presentation on the Minneapolis Convention (Updated May 2018)
- National Convention Calendar of Events (Updated January 2018)