Purpose
The Nebraska American Legion Teacher of the Year program serves to recognize dedicated and devoted individuals who, on a constant basis, give so much of themselves on behalf of the youth of Nebraska. Just like veterans, teachers are the unsung heroes who build our nation's future by working with the youth of today. The Department of Nebraska Americanism Committee believes the Teacher of the Year program will serve to strengthen the bond that exists between The American Legion, the schools of Nebraska and the administrators and educators of these schools.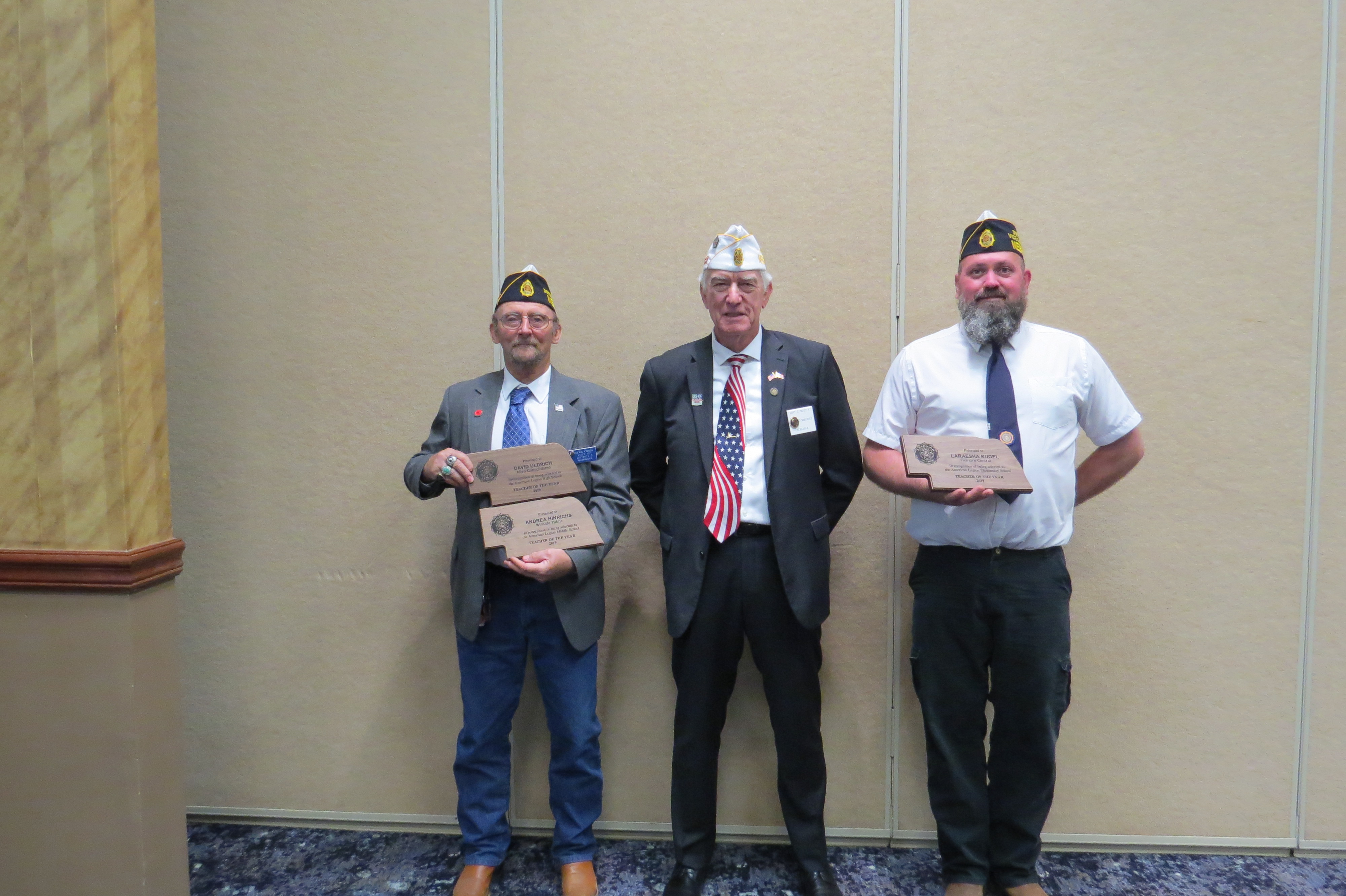 District 3 Commander Dean Ennen (left) accepts the Teacher of the Year Awards on behalf of
David Uldrich (7th-12th Grade History Teacher at Allen Consolidated Schools) and Andrea Hinrichs (PK-12 School Counselor
at Winside Public Schools). District 11 Commander Rodd Paul (right) accepts the Teacher of the Year Award on behalf of
Laraesha Kugel (3rd Grade Teacher at Filmore Central Public Schools). Pictured center is Department Commander Gary Wooten.

Eligibility
Each year, The American Legion Department of Nebraska, will recognize one teacher in each of the following categories: elementary school, middle school and high school. To be eligible for consideration, nominees must meet the following criteria:
- Accomplishments of the teacher must be over and above his or her profession. Consideration will be given to someone whose activities in the field of education was in excess of what would be expected in that field and who promotes American Legion youth programs;
- Be an accredited elementary school, middle school or high school teacher; and
- Can be a veteran or non-veteran, Legionnaire or non-Legionnaire.
An American Legion Post must endorse candidates for the Teacher of the Year award. The winners will be selected by a majority vote within the Department's Americanism Committee and are honored at the Department Convention each year in June.

Application
- Download the Department of Nebraska Teacher of the Year Application Form. The complete application package must be submitted to Department Headquarters in Lincoln by May 1st.